The situation in Ukraine continues to deteriorate, Ukrainians become more desperate by the minute and hundreds of thousands are fleeing the country into the European Union. Our kKleine Herzen Team is helping as best as we can in this very difficult situation. Through our long-standing projects, we have direct contact with our partners on the ground and focus our help on what is needed most urgently.
According to the UN, the Russian invasion has displaced at least 12 million Ukrainians, half of them children. More than five million people have fled to neighboring countries, while it is estimated that there are still seven million refugees in Ukraine itself. Many would like to leave Ukraine but are trapped in their own cities. This tragedy is compounded by the separation of adult men, husbands, brothers, sons, fathers and their families.
6 months of war, 6 months in the life of a child born on February 24th, 2022.
August 24 is the National Day of Independence of Ukraine 31 years ago. It's been exactly 6 months since the war started. This video shows the first six months of a Ukrainian child born on February 24, 2022, the day the Russian army invaded Ukraine.
Video from our Ukrainian partner
"Save Ukraine"
Please help us to help the people of Ukraine!
In this blog we provide you with regular information about how the children we have supported through sponsorships and projects are doing for a long time. We also want to keep you up to date on how we use the donations that reach us. To respect children's privacy and their need for quiet, we only occasionally post pictures (pixelated). We ask for your understanding
Many of you have applied to sponsor our Ukrainian orphans in Burgenland. On behalf of the director, the staff of the orphanage and the 63 small children, the team at small hearts would like to thank you from the bottom of our hearts for your support. Some children have already received letters and packages from their godparents. A godmother has...
Read more
---
63 orphans from Ukraine in Neudauberg ORF1 – April 2022
63 orphans from Ukraine in Neudauberg Puls24 – April 2022
---
Big voices for small hearts - online benefit concert, March 21 from 17 p.m
It's already June 5th, more than 100 days of war, and the war They are still children, most of them between one and three years old, and numerous benefit events are being organized throughout the German-speaking region, raising money for the children is collected, which supports small hearts. Many thanks to all initiators. If you are a fan of musicals, be sure to check out the online benefit concert Big voices for small hearts heartfelt. The concert will be streamed live on March 21, 2022 from 17 p.m. We would like to thank everyone involved for the organization.
www.grossestimmefuerkleineherzen.com
---
The children in our family houses in Ukraine are safe
We are happy and relieved: the Caritas-Spes Ukraine family homes and the needy families we support are safe:
---
Small hearts Germany and small hearts Austria support the evacuation of orphans from Ukraine
The war is raging and 97 children have been killed by Russian bombs since the war began. Our partner Save Ukraine has committed to evacuating as many children as possible who are living in state orphanages. Our financial support enables Save Ukraine to cover the children's most urgent needs, such as medicine, food, clothes and blankets, and then to evacuate them to western Ukraine and European countries. Little hearts is preparing for the arrival of some of these children in Austria.
This video shows small children in an orphanage living in inhumane conditions in the basement to protect themselves from bombs.
Love message from FLO children from Cambodia
It's already June 5th, more than 100 days of war, and the war They are still children, most between one and three years old, and Im The children of FLO, which supports small hearts in Cambodia, sent us this message of love . We belong to the same world and they show us that despite the distance we are all united!
Peace in Ukraine, peace on earth!
Svetlana, Aliona, Anastasia, Ivana, Sofia and Piotr are saved
It's already June 5, more than 100 days of war, and the war You Svetlana, Aliona, Anastasia, Ivana, Sofia and Piotr arrived this morning exhausted in small hearts after a long journey in cold and uncertainty. Three young Viennese, Alex, Paul and Yannick, managed to pick her up at the Slovakian border within 24 hours. We thank them from the bottom of our hearts for their great and spontaneous help. Svetlana and her children had lived in a basement for 12 days with hardly anything to eat.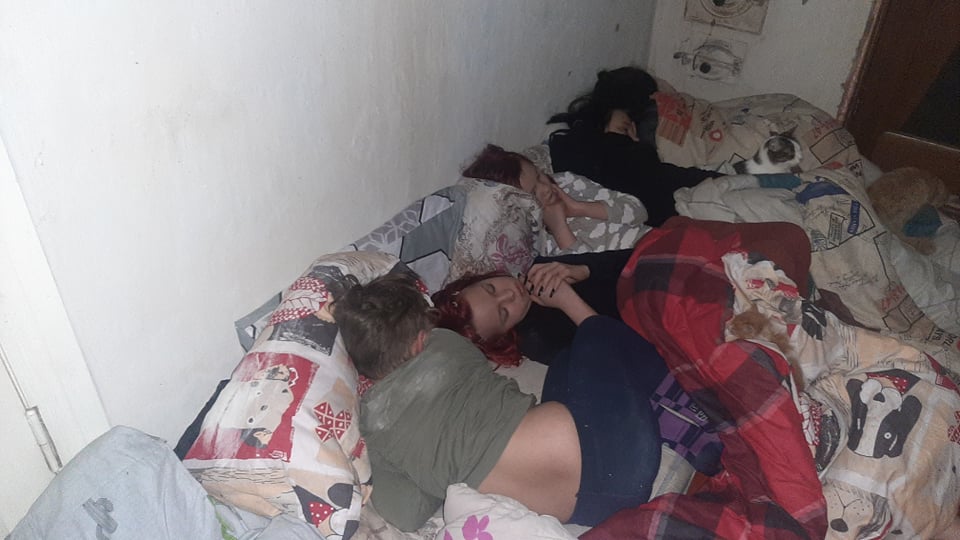 The rescue of Svetlana and her five children is underway
Finally Svetlana and her five children, supported by small hearts, were able to leave their village, which was besieged by Russian troops 40 km south of Kyiv. The small family had to live in a basement for 12 days with hardly anything to eat. During these 12 days, bombs and gunfire became more and more frequent. Svetlana and her five children are expected to cross the Slovakian border on March 11 and will be awaited by two young Viennese. We thank them for their valuable help.
No food, water, electricity or heat
At present, our most urgent task is to ensure the care of the people who remained in Ukraine. On March 5.3.2022th, we received a call for help from our partner in Odessa, Bishop Stanislav. The city is about to be bombed by Russian troops and people have no money to buy food.
Tens of thousands of people are without food, water, electricity or heat in besieged cities in southern Ukraine and elsewhere.
Bishop Stanislav, with whom we have been working closely for many years, is organizing food distribution with his team. He needs financial help to buy food as long as this is possible in Odessa. Please help us to alleviate this need and donate for the supply of the people in Odessa.
A family saves a family
How big the hearts of our supporters are, was shown again last week. A family from Frankfurt, who has been supporting a Ukrainian family in Putruvka, 37km south of Kiev through the kleine herzen sponsorship program for years, took the rescue of "their" family into their own hands. They picked up the parents with their 5 children, one of them severely disabled, at the Polish border. The Ukrainians will now live with their sponsors in Germany for the duration of the war. Thank you for this great help!
The children's home in Kyiv is finally safe in Austria
Last Wednesday, almost at the last minute, the children, caregivers and former residents of the St. Josef home in Kyiv, fled to Austria. The group of 21, including a woman who is six months pregnant, arrived in Waidhofen an der Ybbs on Saturday night. The group was received by the President of the Austrian National Council, Wolfgang Sobotka, and the Mayor of Waidhofen an der Ybbs, Werner Krammer. The Ukrainian group is accommodated in a former inn and is supported within the framework of the Austrian refugee aid for Ukrainians. Kleine herzen helps with donations in kind and money and Pascale is in daily exchange with the caregivers and children. We would like to thank Nikolai Kuleba, the former ombudsman for children's rights in Ukraine, who has already supported us in humanitarian actions in recent years, and personally organized the escape on site.
Thanks to: Andreas, Stefan, Richard, Olga, Sabine, Cornelia, Gjavit, Dieter, Anna, Daria, Oksana, Alona, ​​Wolfgang, Ambassador Mag. Petra Schneebauer and Consul General Mag. Philipp Charwath.